Western Kentucky University
Nara, Japan;
Osaka, Japan;
Tokyo, Japan
(Outgoing Program)
Featured
Program Dates: - unrelated header
Program Dates:
There are currently no active application cycles for this program.
Fact Sheet: - unrelated header
Fact Sheet:
#i18n(14)# parameter/value output

Glossary entry for program parameter 10006

Number of Credits:
3, 6

Glossary entry for program parameter 10008

Credit Type:
WKU Credit

Glossary entry for program parameter 10013

Field of Study:
ASIAN STUDIES, ENGLISH, JAPANESE, LITERATURE, POLITICAL SCIENCE, RELIGIOUS STUDIES

Glossary entry for program parameter 10004

Minimum GPA:
2.0
Program Catagory:
WKU Partner Program

Glossary entry for program parameter 10016

Faculty/Program Leader(s):
Hatakeyama, Yoko, McKee, Lauren, Richey, Jeff
Colonnade Credit:
No
Class Eligibility:
1. Freshman, 2. Sophomore, 3. Junior, 4. Senior
Program Description:
Program Description:
---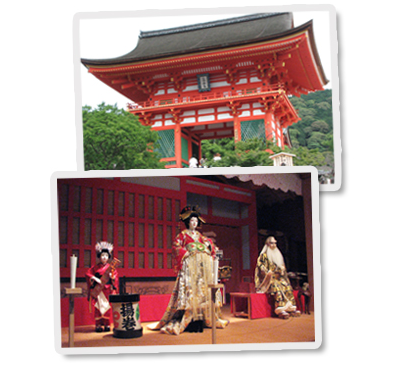 The KIIS summer program in Japan offers students an opportunity to discover one of the world's most sophisticated and dynamic nations. A sublime blend of tradition and technology, Japan seamlessly fuses modern art and ultra-high-speed railways with ancient temples and shrines.

The four-week program begins in Nara, Japan's first capital. Students visit theHeijo Palace site, Todai-ji where the Great Buddha is housed, and Nara Park where tame deer still wander around. Eight historical monuments in Nara are UNESCO World Heritage Sites. In Nara, students also visit Japanese educational institutions (a university and an elementary school) and experience first-hand Japanese traditional arts (i.e. calligraphy, a tea ceremony, and flower arranging).

From Nara, students travel by Shinkansen (Bullet Train) for a full week to Tokyo, Nikko, and Hiroshima. In Tokyo, students visit a museum, a traditional Japanese garden, a famous temple, and the Kabuki Theater. While in Tokyo, students also visit Nikko where Toshogu Chrine is located; Toshogu Shrine is the entrance to the 17th century mausoleum of Tokugawa Leyasu, the first of the Tokugawa shoguns. In Hiroshima, students visit the A-bomb Museum, the Hiroshima Peace Memorial Park, and Miyajima.

The program concludes with a week in Kyoto, the ancient capital until the 19th century and culturally the richest and historically most significant place in Japan. Graced by beautiful palaces, gardens, temples, and shrines, including the renowned Golden Pavilion, Kyoto is a site to behold.

Please note: No Japanese is required for this program (all instruction is in English, with the exception of the optional, intermediate Japanese-language course). Prospective students should be aware that the Japan program is a bit more strenuous than some overseas programs. One should be prepared to 1) walk all-day-long during the program excursions and the full-week Shinkansen trip; 2) carry your own luggage during the full-week Shinkansen trip; 3) ride on crowded trains and buses without being able to sit; 4) walk on extremely crowded streets; and 4) protect oneself in the variable weather (from cold to hot and from rain to sunny) by always carrying an umbrella and/or water and a hat.?
Courses
---
JAPN 210 Intermediate Japanese Conversation Abroad
PS 460 Topics: Japanese Food Politics
PS 460 Topics: United States - Japan Foreign Policy
RELS 399 Topics: Buddhism in Japan
RELS 399 Topics: Religion in Japanese Literature

NOTE: All courses are taught in English except JAPN 210.

For course descriptions, click here.
Accommodations
---
The Japan program accommodations are simple, clean, and easily accessible to the main city centers by walking or public transportation. Breakfast and one additional meal per day are included in the program fee.

In Nara, students live in double occupancy western-style hotel rooms. During the homestay, students eat breakfast and dinner with the host family and commute to class by train or bus or both.

In Tokyo, students stay in a youth hostel where they share quadruple occupancy rooms. Bathrooms are communal (separated by gender) with private stalls. In Hiroshima and Kyoto, students stay in double occupancy hotel rooms.

All hotels, except for Tokyo, offer an Internet (ethernet) cable in the rooms and some computers with free Internet access in the lobbies.