Western Kentucky University
*KIIS: Munich, Germany (Summer)
Munich, Germany
(Outgoing Program)
Featured
Program Dates: - unrelated header
Program Dates:
There are currently no active application cycles for this program.
Fact Sheet: - unrelated header
Fact Sheet:
Program Description:
Program Description:
---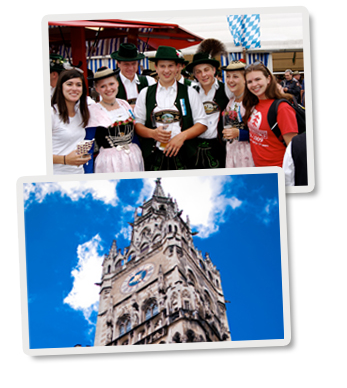 Since 1988, the KIIS summer program in Munich has offered students advanced German-language study in this great Bavarian city and its beautiful environs. Students develop their language skills and experience daily life in Germany, including a homestay in a charming Munich suburb.

The Munich program provides students the best of both worlds: the comfort, security, and familiarity of small-town living alongside the rich cultural heritage of big-city Munich life. The heart of Munich— with its the pedestrian mall around Marienplatz and the Viktualienmarkt and world-renowned museums, theaters, and concert halls— swirls with activity, yet one is never far from the tranquility of Munich's great park, the English Garden, or the relaxed atmosphere of the city's many beer gardens. The individual homestay with a German family in a quaint Munich suburb provides students another taste of Bavarian life, a refreshing contrast to hustle and bustle of the city center.

The program lasts five and a half weeks. Course offerings comprise advanced language instruction and multiple opportunities to explore the cultural history of Munich and Bavaria. On average, classes are held four days a week, with most Fridays and weekends free. The program includes a weekend stay in Nuremberg, an excursion to Neuschwanstein, and a ticket to the medieval festival in Kaltenberg. Two long weekends provide independent travel opportunities for students to visit more distant German-speaking places such as Berlin, Vienna, Zurich, and other European cities.

Past participants consistently describe the unique homestay experience as the hallmark of the Munich program. Students learn firsthand about daily life in Germany, its institutions, social customs and cultural practices. Students typically take part in family activities, going to parties and outings, attending cultural and sporting events, socializing at the bi-weekly program Stammtisch, and sometimes taking weekend trips with their families.

Please note: All courses are in German. Students wishing to participate in the Munich program should have completed at least 12 hours of college-level German (or the equivalent) at time of departure.?
Courses
GERM 306 Experiencing German Abroad: The Cultural Heritage of Munich
GERM 333 Germanic Civilization and Culture: German Juvenile Literature
GERM 455 Topics: Drama, Film and Popular Culture

Course descriptions can be found here

Please note: All courses are in German. Students should have at least 12 hours of college-level German (or the equivalent) at time of departure. Students are expected to speak German on excursions, with homestay families, and in all public places. Each student must take at least one three-credit hour course. However, students typically take two three-credit hour courses. The program fee is the same if you take one or two courses. A student cannot take more than two three-credit hour courses. All course credit will be issued by Western Kentucky University. The WKU Registrar will transfer your grades to your home institution approximately 6-8 weeks after the completion of the program. We encourage all students - long before KIIS program departure - to contact their Academic Advisor, Department Head, and/or the Study Abroad Office to determine the credit equivalencies at their home institution (that is, confirm ahead of time with your college or university how your desired KIIS courses will count towards your major and/or overall degree requirements). Course offerings are subject to change according to enrollment.
Accommodations
---
Homestays are the hallmark of the Munich program and make it truly a venture in intercultural living. Students live individually with German families, many of whom themselves have student-age children, in the Olching/Esting/Gröbenzell suburban area of Munich, learning firsthand about daily life in Germany, its institutions, social customs, and cultural practices. Normally students go to parties and outings, attend cultural and sporting events, and sometimes take weekend day-trips with their host families. Host families will attempt to accommodate requests for special diets or a smoke-free environment, but KIIS cannot guarantee that all requests can or will be met.

While the classroom experiences may at times differ considerably from those on campus, traditional academic features, such as regular class meetings, assignments, exams, and reports or research papers are maintained. Because the homestay element of the program offers a wonderful opportunity to surround oneself with the German language and culture, students wishing to participate must have taken at least twelve hours of college-level German or the equivalent. In this way they will be able to take greater advantage of this unique opportunity to get to know a German family closely. Many, if not most, of the families have participated in the program before and thus understand the needs and desires of the students. All host families, new and old, are chosen because they are ready and willing to help their guests learn the language and understand the culture.