Western Kentucky University
Paris, France
(Outgoing Program)
Featured
Program Dates: - unrelated header
Program Dates:
There are currently no active application cycles for this program.
Fact Sheet: - unrelated header
Fact Sheet:
#i18n(14)# parameter/value output

Glossary entry for program parameter 10006

Number of Credits:
3, 6

Glossary entry for program parameter 10008

Credit Type:
WKU Credit

Glossary entry for program parameter 10013

Field of Study:
ART, ENGLISH, FRENCH, HISTORY, THEATRE

Glossary entry for program parameter 10004

Minimum GPA:
2
Program Catagory:
WKU Partner Program

Glossary entry for program parameter 10016

Faculty/Program Leader(s):
Cuisinier, Eddy, Davies, Lloyd, Martin, Deborah, Paynter, Lee Ann, Salata, Debra
Colonnade Credit:
Yes
Class Eligibility:
2. Sophomore, 3. Junior, 4. Senior
Program Description:
Program Description:
---
The KIIS Paris I summer program offers Paris as its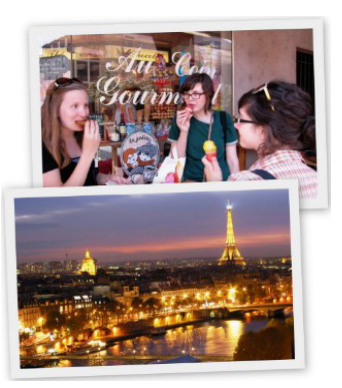 classroom, with a selection of courses designed to take full advantage of the city's artistic treasures, intriguing history, respected literary traditions, and other cultural riches. With its captivating history, as well as its reputation for good taste, fine cuisine, high fashion and legendary sports, Paris has something for everyone.

With a month in Paris, students have the time to become familiar with this modern, animated city, so well known for setting trends while upholding established traditions. Students are able to explore not only Paris's major attractions, but can discover for themselves the city's true hidden gems, explore France and travel to neighboring countries during their spare-time. Rather than hurriedly race to taste Paris's countless delights, program participants may savor those irresistible moments that are far too rich to be enjoyed at a tourist's pace. A day-long excursion to Normandy is planned to visit iconic D-Day sites, such as Omaha Beach and Pointe du Hoc.

The month-long Paris program is designed to offer students a balance between structured time for classes, program activities, and excursions and unstructured time for study, completion of group projects, and pursuit of individual interests. The Paris I program affords students ample opportunities to gain cultural insights and improve language skills. Three-day weekends give you the chance to travel throughout France and Europe if you wish.

By living for a month in France's political, cultural, and economic center, students can enjoy the fast-paced lifestyle of the renowned "city of lights." An unlimited Carte Orange metro/bus pass facilitates transportation within the city, allowing students to personalize their "Paris adventure."

Please note: No French is required for this program (with the exception of optional French courses). Students with little or no French-language skills may enroll in any of the program's English-language course offerings. Students with advanced French-language skills (i.e. those who have completed at least 12 hours of college-level French or the equivalent at time of departure) may enroll in any of the program's English-language offerings as well as any of the upper-division French-language courses— the choice is entirely yours.
Courses
---
ART 491 Topics: Photographic History of Paris
ART 496 Topics: Digital Photography
ENG 200 Introduction to Literature*
ENG 290 Topics: The Holocaust in France
FREN 102 Elementary French II
HIST 490 Topics: French Cathedrals & Churches
HIST 490 Topics: History of Paris
THEA 375 Topics: The Comedy of Moliere
THEA 375 Topics: Travelogue to Monologue

NOTE: All courses are taught in English except FREN 102.
*Fulfills Colonnade Foundations: Arts and Humanities credit.

Course descriptions can be found here

Please note: Unless otherwise noted, courses are taught in English. Each student must take at least one three-credit hour course. However, students typically take two three-credit hour courses. The program fee is the same if you take one or two courses. A student cannot take more than two three-credit hour courses. All course credit will be issued by Western Kentucky University. The WKU Registrar will transfer your grades to your home institution approximately 6-8 weeks after the completion of the program. We encourage all students - long before KIIS program departure - to contact their Academic Advisor, Department Head, and/or the Study Abroad Office to determine the credit equivalencies at their home institution (that is, confirm ahead of time with your college or university how your desired KIIS courses will count towards your major and/or overall degree requirements). Course offerings are subject to change according to enrollment.
Accommodations
---
Participants reside at the FIAP Jean Monnet, an international center in the heart of Paris's 14th arrondissement. The FIAP is located on Rue Cabanis, three metro stops and 15 minutes from the Luxembourg Gardens in the Latin Quarter.

The FIAP is a large, modern residence (with 500 beds) that hosts students from all over the world. It is equipped with a restaurant and a cafeteria. KIIS students occupy rooms designed to accommodate four people and each room has a private full bathroom. Students eat breakfast in the restaurant and either lunch or dinner in the cafeteria at the FIAP. Wifi internet is available in the FIAP lobby, although it is slower and less reliable than what American students are accustomed to at home.

With the FIAP's onsite guide-booking service and a Passe Navigo metro/buspass, students get around easily within the city-- you'll have limitless opportunities to personalize your "Paris adventure."