Western Kentucky University
*KIIS: Slavic Europe (Summer)
L'viv, Ukraine;
Warsaw, Poland
(Outgoing Program)
Featured
Program Dates: - unrelated header
Program Dates:
There are currently no active application cycles for this program.
Fact Sheet: - unrelated header
Fact Sheet:
Program Description:
Program Description:
This program is offered every other year and is not set to run again until summer 2019.
---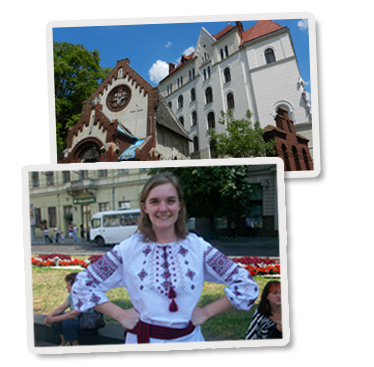 The KIIS summer program in East Slavic Europe program is based in the city of L'viv (Ukraine). Despite numerous wars and invasions, this thousand-year-old urban center has preserved its architectural and cultural heritage. To fully experience the wonders of this enchanting place, the classes are designed to make use of local museums, cafes, churches, universities and national institutions. Students participate in a variety of activities, ranging from taking part in an international student conference to making traditional Ukrainian folkEaster eggs. In past years, the program has taken students to the untamed wilderness of the Carpathian Mountains, palace ruins, and smaller towns & villages.

After three weeks in Ukraine, the program concludes with a week in Poland, where students explore the Medieval City of Krakow, the Nazi Death Camps atAuschwitz and the modern capital of Warsaw.

Since the collapse of the USSR in 1991, all countries in Slavic Europe have been moving toward a new future. Ukraine has had an arduous path to independence, as borne out by the 2004 Orange Revolution, and is moving to greater European integration. Poland, a founding member of the Warsaw Pact, was the first nation to cast off the yoke of Moscow's domination and is now a member of both NATO and the EU. Yet the process has been difficult and many complex problems remain unresolved.

This month-long program of study allows students to earn up to six hours of credit while personally observing the communist legacy and the change to a market economy. Ukraine and Poland provide students with an unforgettable experience. The cost of living in L'viv remains among the lowest in all of Europe and in past years students have found it to be "very inexpensively priced, with remarkable encounters and unforgettable journeys." The striking city of Krakow has a large student population, active social life & beautiful display of European architecture. Classes utilize local attractions. All students will take part in a group excursion to the Nazi death camps at Auschwitz-Birkenau.

Students are responsible for purchasing their own lunch and dinner. See thecost page for tips on how much to budget for meals and spending.

Please note: All courses are taught in English. Students should be aware that they will walk a great deal. Most buildings on the program do not have air conditioners or elevators, and participants will be required to carry their own luggage.
Courses
---
HIST 490 Topics: Battleground of Empires (3 hours) Graduate credit available
HIST 490 Topics: War and Memory in Eastern Europe (3 hours) Graduate credit available
HIST 491 Topics: World War II and the Holocaust in Eastern Europe (3 hours)

Graduate credit is available

For course descriptions, click here.

Accommodations
---
In the Ukraine, students are housed in the graduate and visiting faculty dormitory of the Ivan Franko National University of L'viv. The university was founded in the late-17th century and has buildings throughout the city. The faculty and graduate dormitory is located on a small street near the center of town on Hertsn Street #7.

This building was built in the late 19th century and underwent a major renovation in 2006/7. The building also has private security and a guard is on site 24 hours a day. All rooms have a maximum of double occupancy and have a private bathroom with a sink, shower and toilet. The rooms are also equipped with desks, a small refrigerator, closets, and sometimes TVs. Limited laundry services are also provided weekly or bi-weekly by staff of the dormitory. Staff members are often fluent in three or more languages, and all can speak a few words of English.

In Krakow, students will reside at Nowojka, one of the four student dormitories of the Jagiellonian University. The dorm is located in the city center across the street from the Henry Jordan Park and is near the National Museum. The Nowojka is a short walk from the city's medieval Main Market Square, the Kings Palace, and the Center Train Station.

Originally built between the Two Word Wars as a residence hall for women, the Nowojka now houses students from all over the world. Students will stay two to a room and two rooms will share a full bathroom. Students will eat breakfast at a neighboring cafe and the Nowojka has a cafeteria that provides meals at very reasonable prices.

In Warsaw, students will stay at the newly built four-star Novotel in the center of Warsaw. Best known for its central location, the hotel has breathtaking views and a variety of services, including free WiFi, a sauna and fitness center. Students will stay two to a room and share their private full bathroom.


Students are responsible for purchasing their own lunch and dinner. See thecost page for tips on how much to budget for meals and spending.