Western Kentucky University
*WKU Faculty Led: London/New York - From the West End to Broadway
London, United Kingdom
(Outgoing Program)
Featured
Program Terms:
Winter

Restrictions:
WKU applicants only
Program Cost:
Winter

There are currently no active application cycles for this program.
FROM WEST END TO BROADWAY
---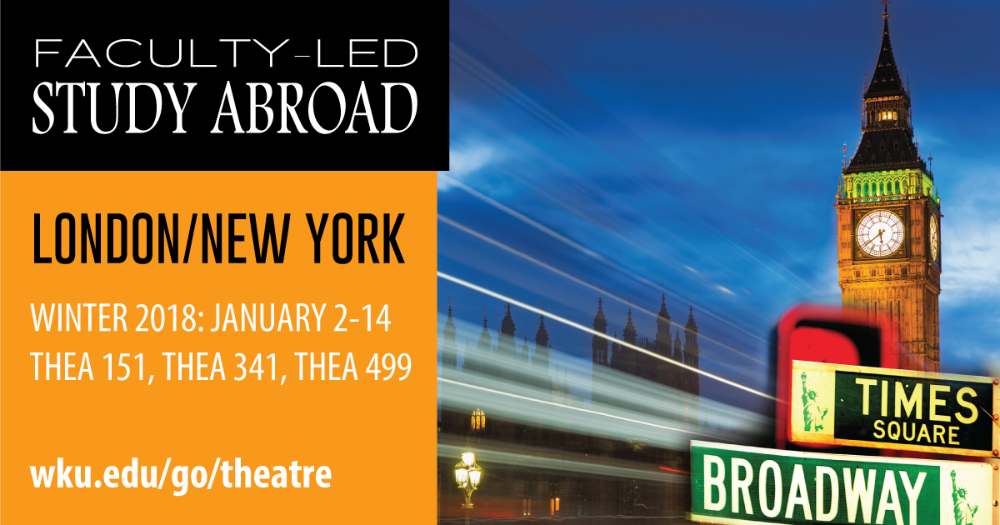 PROGRAM LEADERS
---
Dr. Julie Lyn Barber - julie.lyn.barber@wku.edu
Dr. David Young - david.young@wku.edu
COURSES & LEARNING OBJECTIVES
---
Students can select 1-2 courses for up to 6 credit hours (with permission of instructors).

THEA 151 – Theatre Appreciation (NYC portion optional)*

A study of the literary, historical, and creative aspects of the theatre. This course is designed to develop an understanding and appreciation of the art of theatre from the point of view of the audience.

As a result of this course, students will be able to:
Read a play analytically

Identify the principal personnel and business models of professional theatre

Articulately discuss recent trends in American and British Theatre, and draw connections to earlier traditions

Express their analysis of live performances, verbally and in writing

Explain how social, cultural, and historical contexts have influenced and been influenced by theatre and theatre artists in various cultures and time periods
THEA 341 – Culture and Performance (London and NYC portion required)**

This course is designed to provide a close study of the ways that performance shapes, reflects and challenges cultural values and discourse, across a wide variety of contemporary performances in both London and New York City. This conversation of contemporary performance will be viewed within the historical backdrop of the English theatre tradition through visits to museums and significant historical sites such as Stratford-upon-Avon and the Globe Theatre.

As a result of this course, diligent students will be able to:
Analyze the development of self in relation to others and society

Examine diverse values that form civically engaged and informed members of society

Evaluate solutions to real-world social and cultural problems
THEA 499 – Studies in British Theatre (NYC portion optional)

A study of the British theatre highlighted by a tour to England and viewing of representational plays of the English theatre, including visitations to supplementary historical and cultural sites. This course will provide students with the opportunity to explore the Western theatrical tradition up close. Students will study in depth the contribution England has made to our shared culture and also speculate on where that shared culture is moving.

As a result of this course, diligent students will be able to:
Understand the significant role England has played in creating and maintaining the Western theatrical tradition

Be familiar with the range of performance venues in London

Have an increased understanding of the reciprocal relationship between performance and the culture(s) in which it is performed and experience

Analyze, compare, and contrast live performances
*Fulfills Colonnade Explorations - Arts and Humanities.
**Fulfills Colonnade Connections - Social and Cultural.
LEARNING OBJECTIVES
---
Upon completion of this course, the student should be able to:
Categorize and Explain basic multicultural leadership perspectives and cultural competencies in an ever-changing global society.

Analyze and compare behaviors of effective multicultural leaders

Apply leadership theories and models through in-class exercises

Compare and contrast tools available for measuring and improving diverse and inclusive leadership

Distinguish the difference between leadership behaviors across time periods and cultural dimensions
ELIGIBILITY
---
Program leaders may determine stricter eligibility requirements, but at a minimum, all applicants earning credit in a program would meet these requirements:
Current WKU students eligible to enroll in WKU courses OR students from outside WKU may participate as non-degree seeking student.

Student must be in good academic standing.

A minimum of 16 years of age at time of departure (parental/legal guardian expressed, written consent required for those under 18 at time of departure).

Students must be free of active disciplinary sanctions as verified by Judicial Affairs.

Complete Study Away application and pay deposit.

Complete pre-departure program.

Full payment prior to departure.

Permission of instructor.
Click on Program Details for the most up-to-date information: